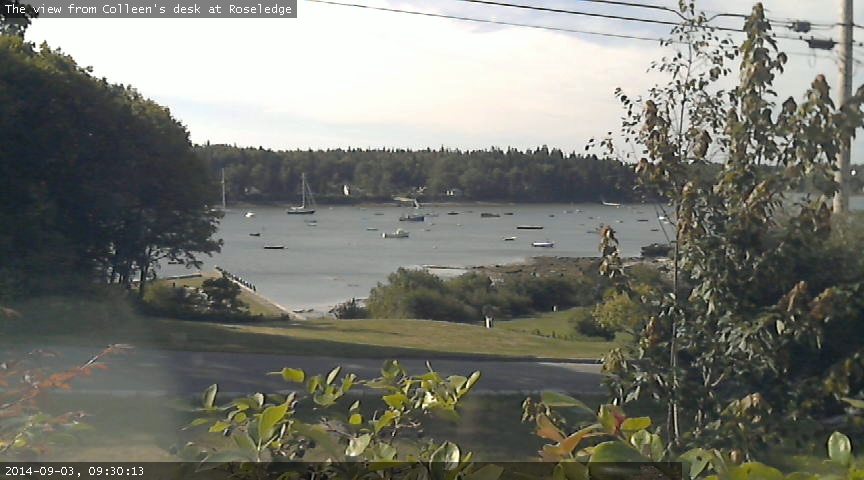 With you, o webcam, I am practically one with Tenants Harbor.
The harbor is alive — with 10 second refreshes — on the webcam. And the harbor is very big — with a click on the picture –on the webcam . Note especially that the neighbor's tree with "too-big, right-sided branchitis" has been cut back and another neighbor's wharf is more visible. Note to the RB visitor who complained that he could not see his boat on the left, take another look. The euonymus is gone, so the handsome rock wall on the right is more visible. As always, there are a few changes, but mostly, things stay the same. Perfect.
We made it, Charlie and I, just in time for a thunderstorm — virtually inside curtainless Roseledge. It's been a wet, cool spring, so the greens are lush, the lilacs opening, and the forsythia still a promise. The snow in summer colors the granite rocks, the tide comes and goes no matter what, and the lobster boats are more discerning. Coffee on the front porch and all is right with the world.  But we just ran out of last year's supply, kept supple in the freezer over winter, so Charlie is heading to the Produce Lady who opens Harborside Market at 5:30 a.m., thank heavens, and has started carrying and grinding Rock City Roasters; "midnight sun."  Just so you know, the perfectly-sited East Wind Inn — immediately behind the last protrusion to the water-right of the webcam — is for sale.
It's time to unbox books and hang the weathered "BOOKS" sign, but that shouldn't stop you from coming. And any more rain in the forecast just means it's reading time.  ROSELEDGE BOOKS is alive and well, if a bit slower. See you soon.