Leaving Tenants Harbor is always full of pangs, but when early September comes, it's time to head back to Minnesota. "You winter in Minnesota?" an incredulous visitor asks. I do. Minnesota's snow and very cold are easier for me to maneuver than Maine's moderate clime and post-sunset ice.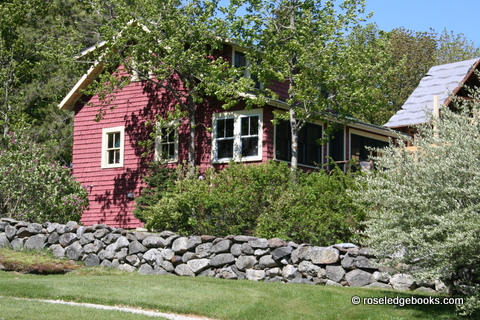 Fig.#38. Leaving Tenants Harbor; looking back at Rosledge Books.
To subdue the pangs, I choose a withdrawal read, usually something to do with Maine. I remember the now-defunct Maine Times (newspaper) or New England Monthly (magazine), and I still subscribe to Down East (magazine), and have thought about the Courier Gazette (newspaper) which was recently sold to VillageSoup.com, but this year I just kept reading the book I started before I left Maine, and, oh joy!, it has become a lovely transitional read.
The book is Ryszard Kapuscinski's Travels with Herodotus, a treasure of essays written in the late 50's and 60's (so far) as he began his career as a reporter from Poland traveling to Third World countries (India, China, Congo, and Iran, so far) with his editor's gift: a copy of Herodotus' Histories. What a great gift — to him and now, to us! (There is a well-reviewed new translation of Heodotus' Histories published last year.) So I read it and think about other places, including Roseledge Books' front porch, connect as I can, and get ready to face the houseboundedness that is much of winter.
Fig. #39. Trying to wish a last look into a memory.
Why read? Reason #2: Read more to appreciate more — about places, people, or things, before, during, or after an encounter. Life will be fuller and more fun.
I remember dismissing all seagulls because I so disliked Jonathan Livingston Seagull. A friend told me to learn more about seagulls and my opinion might change. I did and it did and today I love waiting for the summer sounds of gulls, watching them soar above the returning lobster boats in the harbor, and looking long and carefully at Jamie Wyeth's paintings of gulls. (I have his gull poster next to the washing machine.)
The webcam is hibernating.