Two trees fell over in the backyard of Roseledge during a strong spring storm. Roseledge itself is fine, but the outhouse may be a thing of the past. Thank heavens I now have indoor plumbing. The downed trees can wait until summer and unsuspecting guests ask what they can do. Mostly I am doing all that needs doing before Memorial Day weekend and Maine arrive.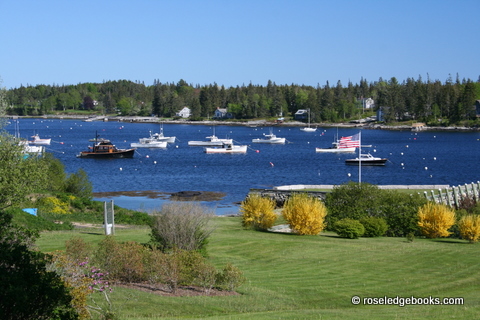 I read to learn, a colleague succinctly put it, and so do I, especially to learn how the world works. I hope this rescues me from relationship novels. The botched car bomb of Times Square last week, for instance, brought to mind Alex Berenson's The Faithful Spy. Steig Larsson's Girl With the Dragon Tattoo came to Frank Rich's mind (NYT 3/21/10) as he thought about financial industry doings and reporters. BBC mentioned a lost ship, maybe filled with arms, and Mossad in the same breath, and I thought of Daniel Silva's Moscow Rules. The other day, an acquaintance told me she moved here from near Kiev in Russia shortly after Chernobyl. Last summer I read Martin Cruz Smith's Wolves Eat Dogs, so I was not completely at a loss. If I could figure out how to know if a book would be somehow helpful in an unknown future, I'd make a list and have them all at Roseledge Books.
So it is lists once again, an ongoing RB topic and the focus of Atul Gawande's new book, The Checklist Manifesto, in which he argues that lists are one way to manage complexity. (Reviewed favorably in NYTBR, 1/24/10 with a thoughtful and important response the following week from Dr. Gawande in "Letters" NYTBR 1/31/10.) Unfortunately, the paperback is not due until next January, but is RB a trendsetter or what!
The happy news of Russ and Clare's latest adventures coming soon was a fluke, according to Julia Spencer-Fleming in an email sent to "Readers", one of whom is a Very Regular Roseledge Book Regular. If anticipation is two-thirds of pleasure, we have about a year's worth of pleasure ahead of us.
Did you all follow the almost annual flooding of the Red River in North Dakota and wished you knew someone who grew up in Wahpeton at the head of the Red? Well, you do and I did. Three reasons why living on the Maine coast thus comes naturally: the magic and necessity of water, wind, and seeing forever.
The friend who sent me pictures of the downed trees in the backyard unsubtly mentioned Charlie might want to paint red Roseledge this Spring. My trendsetting pockmarked shingles, especially on the garage exterior and caused by an unprimered original paint job, may not be weathering to gray fast enough to sort of blend in. Charlie's response, "We'll see." And two weeks from Thursday, we will.