Deciding which book to read next is tricky and very personal. Liked author, known protagonist, intriguing subject or angle, new evidence, significant locale, bleak, hopeful, wordy, sparse, thin or fat, — the possible tipping points are many and varied.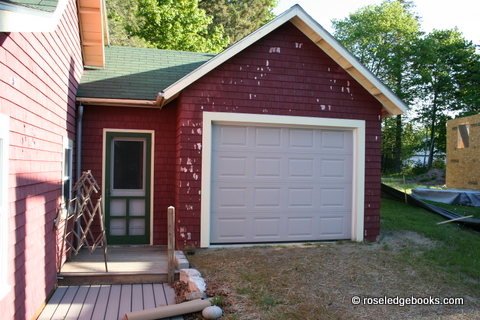 Fig. #37. Perspective matters. A trend-setting look of aging shingles or a pockmarked example of unprimered paint?
Frame of reference, perspective — okay, bias — is rarely mentioned but important, if "cocooning" kicks in. Cocooning, well "viewer cocooning, "Peter Boyer explains in an article about Keith Olberman, (The NYer, 6-23-08) is "the inclination to seek out programming that reinforces one's firmly held political views." It's a way to sort through the all-information, all-day lives that we live, and I am going to infer that he also means "reader cocooning" or choosing to read books with have an agreeable frame of reference. So it is that I chose not to buy Brad Meltzer's best selling paperback last year when I read Rush Limbaugh's name in the "Acknowledgements." (I can't remember the book's title.) But I keep a Vince Flynn CIA thriller on the shelves, currently Separation of Powers, even though on a trip to my winter home in Minnesota, George W. told him how much he liked his books. That is a Flynn-minus. But Vince Flynn teaches in Minnesota, and I love Minnesota, so that is a Flynn-plus. The tie-breaker-plus is knowing that a former student of mine was a friend of Vince Flynn's brother, and he liked the brother. I always trust my former students. I've sold Larry Beinhart's The Librarian (not Larry David, Jerry; sorry) and Anonymous' Primary Colors, but they seem dated this year, so no reorder.
Reader cocooning is interesting, said the Minnesotan neutrally. How about webcam cocooning?