Maine is not for everyone. Some people visit once, can't find anything to do, get in a twit when cell phones don't work, and willingly leave early. Others come, settle in, book the cottage for next year before they leave, and buy lots of withdrawal reads from Roseledge Books on their way away. So how do you know if you are likely to like Maine or to not like Maine?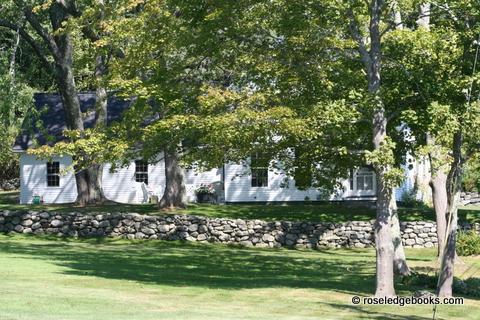 #7. Fifty-five steps from the rock wall up the hill on Sea Street to Roseledge Books.
The best test I know is to read Robert McCloskey's One Morning in Maine
. If you finish it and think nothing happened and, even worse, if you can't figure out why it's a classic, Maine is probably not for you.
Another good test is to read Sarah Orne Jewett'sThe Country of the Pointed Firs
and to think that Dunnet Landing might be a good place to visit. Some think Dunnet Landing is really Tenants Harbor; others think it is Martinsville. One guy was sure it was Port Clyde. I don't think the pace of village life in coastal Maine has changed much.
If you've come to Maine and had the first of a lifetime of best vacations ever, then Roseledge Books has some great withdrawal reads.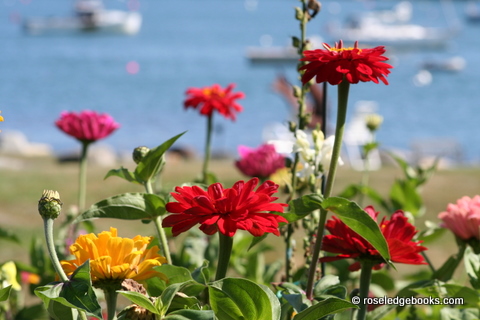 #8. An airy walk-by garden. I like airy.
My favorite "summer people" books are Ruth Moore's Spoonhandle
, a novel about rich people from away buying up local property, and Jim Sturba's charming Frankie's Place, A Love Story during which Midwesterner Sturba becomes a Mt. Desert "rusticator" and marries Frances Fitzgerald. Maybe I chose these books because I'm a Midwesterner who fell in love with Maine on a vacation near the rocks of Acadia and Frenchman's Bay. Now 35 years later, I'm a summer people. But no matter what, both are great reads.
In the old days of twenty years ago or so, a subscription to the weekly newspaper, Maine Times, was a good way to keep memories alive. Today, the closest equivalent is a subscription to the monthly magazine, Down East. But for the book most likely to provoke the most varied and personal memories, I love Paintings of Maine. Find the places of your heart, remember the good times, and plan for next year

McCloskey, Robert. One Morning in Maine


Sturba, Jim. Frankie's Place

Moore, Ruth. Spoonhandle
Jewett, Sarah Orne. The Country of the Pointed Firs
Paintings of Maine