No, "returning characters" does not refer to Charlie and me, even though Memorial Day, our "returning" weekend, is looming large.
Annette guessed that "returning characters" were migratory birds, and she forwarded a possibly great Birds of Maine book (Stan Tekiela's Birds of Maine Field Guide
) which is good because Roseledge Books only has a picture-less guide to Maine places where birds might be. But that wasn't what I meant either.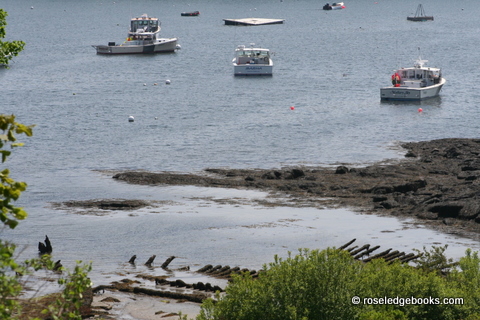 Fig. #15. The tide is a favorite "returning character" and so are the ribs of the (ship) "wrecks" that show at low tide.
Instead "returning characters" refers to the main characters in favorite series, two of which have just reappeared in a latest paperback edition.
I just finished and really liked Peter Spiegelman's Red Cat
, the latest John March paperback mystery. I like John March. I like his decisions, dialogue, NYC detail, and I like author Spiegelman's continuing background of family, finance, friendships, maybe especially finance. Since Paul Erdman died, I've had no one so able to teach me about finance through fiction, and learning about money is part of knowing how the world works — my most major reading goal.
I'm reading Lee Child's Bad Luck and Trouble
very slowly. Jack Reacher may be my favorite returning character, and I don't want it to end too soon. I love working through his decisions with him, and I love learning a million details about whatever is the featured place of that adventure. This time it's a group effort set (so far) in Los Angeles.
But I just couldn't stay interested in the Richard Jury crowd in Martha Grimes' Dust
, though I have liked them until now. And Millie and Kathy both thought Tony Hillerman's The Shape Shifter
, his latest paperback with Jim Chee and Joe Leaphorn, was a little less. So were the last two Stephanie Plum "numbers" by Janet Evanovich. I thought each needed one more escapade, and it's time to settle the Joe/Ranger issue. Do authors get bored with their characters after a while? I think I remember John Sanford saying he did. Do readers? I do.