This is a glorious day. The harbor is alive with Sailing School kids wiggling about in daysailers, kayakers gliding inches above the water, dinghies bobbing in place for lobsterboats, a yacht and a powerboat looking for their rental moorings, and just enough breeze to keep the bugs away and the water rippling. It is high summer. June might never have happened.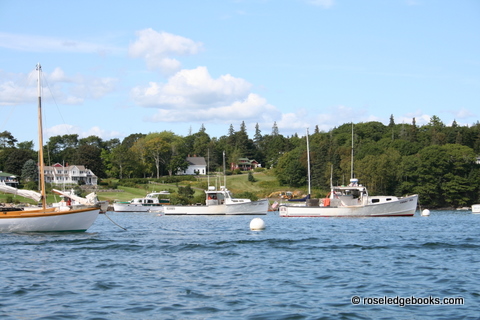 Fig. #57.  From the busy harbor, Roseledge Books looks inviting, even without the flashing neon rose I'm told I need to place in the window.
And good news abounds.
++Roseledge Books' very classy new sign on the tree at the foot of the hill on Sea Street has drawn raves from the two walkers who remember the classy, but needy old sign.
++Bernd Henrich's The Snoring Bird is on its way to becoming a Roseledge Books bestseller. Okay, I only sold one copy, but it has a great cover and I want to read it, too, so I ordered two more. Jamie Wyeth's Seven Deadly Sins, his second art show with birds in recent years, is at the Farnsworth's Wyeth Center this summer, and Jonathan Rosen's Life of the Skies about "long looking" at birds is in transit and maybe already at the post office as I write this, so birdiness is definitely in the air.
++My series summary is "mostly okay."  Lee Childs' Nowhere to Go is not his best, but any Lee Childs is better than none and he does start in Calais, ME.  Dana Stabenow's Prepared For Rage didn't include Kate Shugak, a huge disappointment.  Nora Roberts' Tribute illustrated many of the points made in a recent New Yorker article about her (See: Collins, Lauren. "Profiles: Real Romance," June 22, 2009).  Randy Wayne White's Black Widow described Sanibel Island and Eastern Caribbean locations in the detail I need because I've never been there, but I was sorry he didn't use the venomous shrimp as a bioterrorism tactic. Stuart Woods might have a house on a Maine Island, but there is not a hint of Maine in his Hot Mahogany, and some of Christine Dodd's bodice ripper, Danger in a Red Dress, might take place in Maine, but it is not "of Maine."  Fun, though.  I have higher hopes for a Maine voice informing Elizabeth Strout's Olive Kittredge, but I am reading Karen Joy Fowler's Wit's End, first. The back cover "come-on" suggests that in it, life with a mystery writer is a constant tug between knowing what is real or imagined. This in turn suggests that the documentation/speculation spectrum which I love as a means of differentiating fiction from non-fiction may need to add the quality of the search for documentation before deciding a book's place on the spectrum. If you can't find something, does that mean it isn't real?  Yes, I was an undergraduate philosophy major.
++Remember in my last post I fretted about the problem of stories dropping like stones in water once used in a writing or a telling? As I recalled there, Annie Dillard (in The Writing Life, I think) thought this was so.  Now in a NYTimes Book Review of her The Red Convertible: Selected and New Stories 1978-2008 (See: Schillinger, Liesl, "All American," January 4, 2009), Louise Erdrich is quoted as saying, "Stories are rarely finished for me. They gather force and weight and complexity" —  in their retelling, I add. And so in the embellishment of further thought or for a different audience, the dropping stone turns into a skipping stone and the water ripples broadeningly. Whew.
++Very slowly but very surely, old friends are stopping by. As a measure of how slow June was, I sent my June sales tax to the Maine State Treasurer today. It was a check for $1.15. Yes, you read correctly. So hurry up and come. (The webcam is on.  The lawn chairs have moved.)